SOUL COSMOLOGY™ PAINTING




KAYPACHA

Premium mixed media Soul Cosmology™ Painting with crystals and minerals on 24 X 30 inches canvas
(close-ups shown below)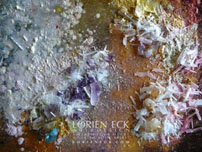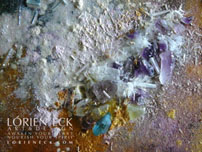 Mixed media Soul Cosmology™ Paintings on French cold-pressed 100% Cotton paper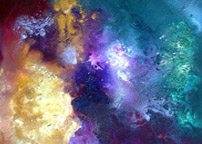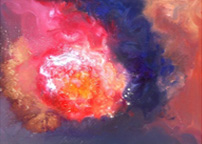 THE ORIGINAL SOUL COSMOLOGY™ PAINTING since 2012

A soul's essence cannot be contained in a word, or even a phrase. And so, using my spiritual insight and artistry, I interpret your unique soul qualities/gifts and express them through light, color, texture – from Spirit to matter.

A Soul Cosmology™ Painting is a customized mixed media painting that is a co-creation between the artist and the client-recipient. It is the epitome of a unique, individualized and exclusive painting that reflects your Soul's unique beauty and light. With your Soul Cosmology™ commission, you will also receive a high-quality digital image suitable for use as a Wallpaper/Desktop Image.

Soul Cosmology™ Painting is a unique experience that culminates in the co-creation in a painting that reflects your Soul's unique beauty, essence and light. Today customization is regarded as the epitome of luxury. My Soul Cosmology™ Painting taps this desire for exclusivity by allowing you the client-recipient to collaborate in the role of co-creator. Through your completed Questionnaire and our one-one consultation session, we combine forces for your Soul Cosmology Painting to come to life.

Your Soul Cosmology™ is your essence of being or Spirit translated into a fine art painting -Matter- it is a potent reflection of you. It is a mirror and reminder of your bright inner light and Eternal beauty. As you engage with your painting, you awaken and are nourished. You begin to recognize "you" again, and open up to receive those most precious aspects of yourself: your true essence, harmony, beauty, personal power, strength, balance, and peace.

Imagine commissioning a Soul Cosmology™ Painting to...

• Reflect and remind you of your Inner Beauty and Light

• Enhance feelings of inner peace, self-healing, self-empowerment and well-being

• Strengthen a deeper appreciation for your own wisdom, sovereignty and bliss

• Illuminate a more profound recognition of your unique genius and gifts, and of the light that is YOU!

• Validate a more grounded connection to your daily experience of Cosmic Consciousness or Oneness

• Beautify a space with art that translates the language of your Soul

How to Commission Your Soul Cosmology™ Painting ~

It's easy! Just make your selection from the size and media options below. Then, to create a Soul Cosmology that reflects your unique personality, download and complete the simple Questionnaire and email it to Lórien. After meditating on what you've shared, she'll contact you. Through the energy and connection of your conversation, Lórien will intuit and create your one-of-kind, handmade Soul Cosmology™ Painting!

Your Soul Cosmology™ Painting is a fine art original mixed media painting on EITHER 100% cotton, acid-free, archival, gallery-wrap canvas with a 1 3/8" profile or French cold-pressed 100% Cotton paper. In addition, you will receive a high-quality digital image suitable for use as a Wallpaper/Desktop Image delivered electronically.

Dimensions & Pricing:

12 X 16 inches $250 (French cold-pressed 100% Cotton paper)


---
22 X 30 inches $500 (French cold-pressed 100% Cotton paper, archival matted and framed)


---
24 X 30 inches $1000 A premium mixed media painting that include minerals and/or crystals
and/or semi-precious stones as the Soul Cosmology™ reading indicates (on 100% cotton, acid-free, archival, gallery-wrap canvas with a 1 3/8" profile).


---

We ship worldwide! Shipping and handling fee will vary, based on weight and dimensions of artwork, and destination. Shipments to California will include 9% Sales Tax. We will provide an updated invoice after shipping is calculated.

*These prices are subject to change.

Larger sizes available on canvas. Commissions welcomed. Contact Lórien for more stunning options!


KINDNESS
"I love my Soul Cosmology painting! It's wonderfully unique and a beautiful piece of original art. Every time I look at it I feel a sense of peace and connection to a spiritual world that is much greater than myself. Thank you for sharing your gift Lórien!"
~ Lori Schaffhauser, Television Industry Executive
"My Soul Cosmology painting Lórien painted for me is truly inspirational! I have it strategically located in my bedroom where it is the first thing I see when I wake up and the last thing I see when I go to bed. I am continually reminded of how beautiful my soul is and that I am connected to everyone and every living thing. As my essence transforms so does my Soul Cosmology painting. It never looks the same twice. Thank you Lórien for capturing my soul and displaying it with such beauty!"
~Cindy Thomas
"Lórien, I want to thank you for the Soul Cosmology painting you did for me. It is so amazing. The energy of the painting evokes a feeling of expansion - of expanding my own limited perception of me into the vastness of the Universe - of becoming a part of the Onenes. This is so perfect for me because that has been my work this year - to embrace the universal connection of all life. Your painting is at once a reflection of the work I have done and the work I have yet to do. I have so much gratitude for how magnificently you captured that in one session!
Thank you!
All my love,"
~ Lori, Blissful Awakenings, Owner
"I am delighted with my beautiful Soul Cosmology Painting by Lórien Eck. It's hard to categorize this kind of art because Lórien actually interprets her subject's energy with a kind of 'Artistic Alchemy' that goes beyond being beautiful. It's peaceful and healing and energizes my room. It simply makes me feel good every time I look at it. I couldn't be more pleased - Thank you Lórien!"
~ Choury DeVelle Bsc, CHt., NLP Quantum Meditation and Transformation
"Lórien's Soul Cosmology Paintings are portraits of one's unique beauty. The vibrant colors and the fluid movement of the brush strokes enliven the viewer by bringing joy and happiness to the spirit. She infuses her own love of beauty and color in the paintings and the results are explosions of colorful beauty- like a cosmic bubbly champagne that leaves one feeling giddy!"
~ Keren Bensoussan, Yoga Teacher and Energy Healer, Sardinia, Italy