ART WITH LORIEN CLASSES
Hello! Welcome!

Art with Lórien is here to teach people of all ages about the wonders of color, texture, and the magic of feeling good through creative self-expression!

My art classes focus on the artistic creative process. We explore and play with these fundamental layers to build skills, increase knowledge and develop confidence in art making as lifelong practice.

My passion and purpose is to inspire, encourage and support you in connecting with your inner spark of creativity.

I truly believe art has the power to heal. As we heal our selves, we heal all - the Earth and her inhabitants.



Join Lórien Eck, an award-winning educator who teaches people of all ages about the wonders of color, texture and the magic of the creative process. "My passion is sharing my excitement and love for the creative fire within and the act of creation itself expressed through painting.

Did you know? Brain research shows the arts promote mental health, overall wellness and lower stress!

My class sizes are small to ensure a meaningful learning environment and individual attention for all. I am inspired to provide you and yours with the opportunity to grow into your capacity for living creatively and artfully!

For Small group Ongoing and Drop-In Classes Available Now, Click Here





Offering Private Custom Art Classes for 1 to 2 individuals with Lórien Eck M.Ed. Feel free to reach out to me to discuss how we can support your artmaking dreams and inspirations.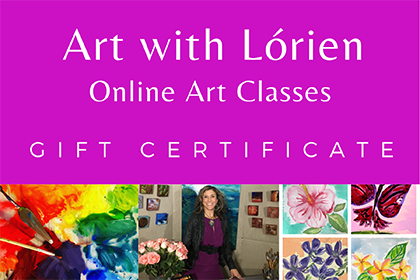 Customizable Private/Semi-private Classes for Kids

A gift for kids of all ages that lasts a lifetime.
Excite imagination with fun & interactive classes from Art with Lórien.