Offering Private Custom Art Classes for 1 to 2 individuals with Lórien Eck M.Ed. Feel free to reach out to me to discuss how we can support your artmaking dreams and inspirations.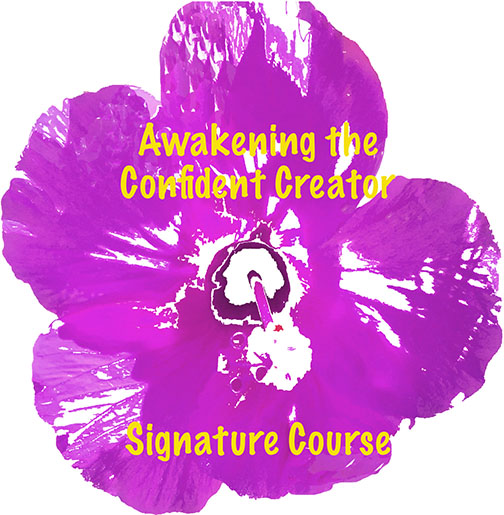 My Self-Paced Online Art Workshop to Nourish Your Divine Inner Artist and Cultivate Self-Love and Confidence.
You can create the space and learn the skills to make beautiful, meaningful art.

To support you in Awakening your Divine inner artist, I offer LOTS of fun, free and instructional recorded video tutorials content over on my
Art with Lórien YouTube Channel
. #seeyouinthestudio

"I just watched your Episode 1 art class video -- such a well done, informative and uplifting 13 minutes! I love it - makes art very, very accessible. You also answered a years' long question - what medium is best for me - gouache !!! It feels so much more natural than acrylic and has the qualities of both watercolor and acrylic - perfect!
You carrying such a lovely quality as you speak - warm, light, clear and so engaged with "us" in the audience. Beautiful. I am signing up.
A few weeks later .... I also thoroughly enjoyed listening to your Episodes 2 and 3. I went to do the color wheel and the four-part painting. What I found wonderful is the way you present. It makes me feel as though I am there with you and the encouragement to do it however it turns out - outside the lines and no "mistakes".
Even though I "know" this approach to learning and even teach it in my own modality - there is something special/invigorating/ different about being led into action with those non-rules in real time. You got me painting Lórien! and that is a feat. Much appreciation and great work!
~Eugenie, North Carolina
I first fell in love with Lórien's art several years ago when some of her works were being shown at the Ritz-Carlton Laguna Niguel. I love what she creates. When she recently emailed me that she was giving a workshop I jumped on the opportunity! Lórien is a born teacher. She helped me create several paintings. She also uses guided meditation to bring out your inner artist and creativity. The workshop was so inspiring. The next day I ran out to get my art supplies. I could hardly wait to get home to start painting my new creations. I would highly recommend taking Lórien's workshops. She also teaches advanced art workshops which I will take full advantage of. Thank you Lórien for inspiring me to the extent that you have!
~ Ava Guiness, Laguna Niguel, CA